Do you have a need to generate a professional product mockup? Or trying to decide which platform to use for the first time?
If you're wondering what the differences are between RiseShot and SmartMockups for designers and publishers building online products, we put together this no-nonsense overview.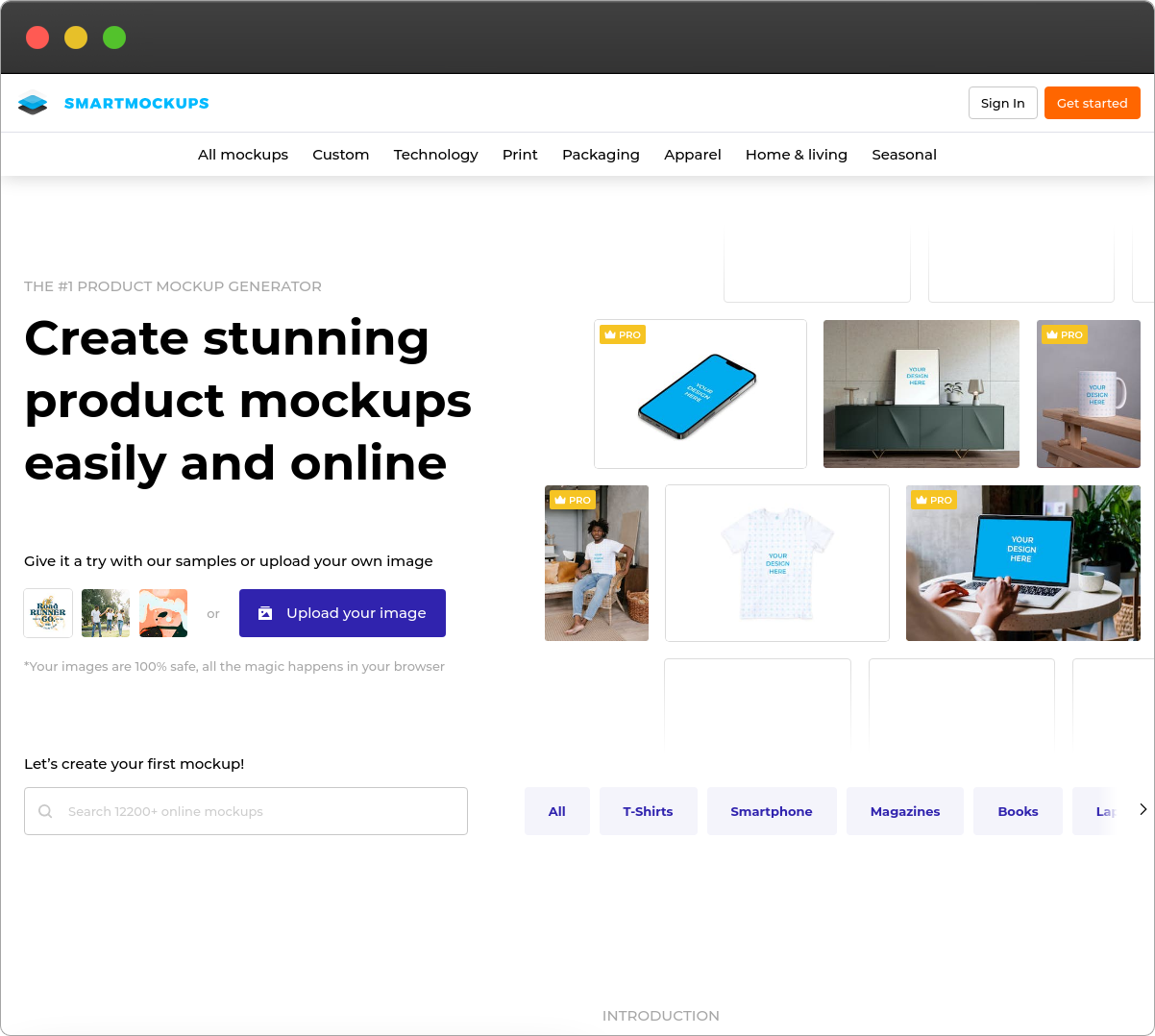 | | | |
| --- | --- | --- |
| | RiseShot | SmartMockups |
| Pricing | ✅ Free | ❌ Limited Free plan & $9/month subscription |
| Quality | ✅ 4k | ❌ Medium for free and unlimited for a paid subscription |
| Mockups Count | ✅ 900+ | ❌ 2.7k for free, but with poor quality. 12k for a paid subscription |
| URL screenshots | ✅ Yes | ❌ No, only for a paid subscription |
| Downloads | ✅ Unlimited | ❌ Limited for free and unlimited for a paid subscription |
| Bulk Download | ✅ Yes | ❌ No, only for a paid subscription |
| License | ✅ Personal and Commercial | ✅ Personal and Commercial |
How do I edit a mockup without Photoshop
Online Mockups generators allow non-designer to create product visuals like they would appear real in a specific environment or device.
So RiseShot does precisely that - it allows you to place product screenshots on iPhone, Macbook, and any other imaginable device from tablet to Desktop PC.
You can even grab any project URL and place it in the mockup.
Mockup generation software works in your browser, so you don't need to install anything on your computer, and you can use the service from any device you want.
The same could also be achieved with SmartMockups, but for that service, you have to have an account, and they will constantly bomb you with marketing emails and requests to upgrade to a paid account.
How do you make realistic mockups
Realistic mockups could only be achieved with big-resolution images. RiseShot gives unlimited download access to 4k mockups.
To build realistic images with PC software like PhotoShop, you would need a lot of RAM and solid hardware (graphic card) in order to process those. Computer resources are rarely the issue, having design knowledge usually is.
Thanks to online RiseShot UI you could create realistic mockups without any additional software.
SmartMockups also a tool for mockups generation, but only average quality is available for a free plan. They also limit downloads you can do or mockups you can use.
How to get mockups without watermark
In RiseShot online tool all mockups are without watermark and are available for download with a single click.
No registration, no payment.
With SmartMockups, you need a paid account in order to have better than average quality of images or download those without watermark.
SmartMockups Review
There are at least a few things that you might dislike about SmartMockups, for example:
- People feel cheated after they bought a lifetime license - it was deprecated, and users were moved to paid subscription plan instead.
- Users complaining about bugs (which is a normal thing in every project) and about long-standing issues nobody is fixing
- Confusing signup and landing page do not talk much that users are being put into a trial mode (yes, SmartMockups is not free at all).
- Not everyone is happy about the quality of mockups (resolution size or too blurry images).
- You upload images and only discover the paywall when you have done the job.
What Are SmartMockups Alternatives?
Most likely, this is what you are looking for - something free but still great and valuable.
1. RiseShot
In this project, you won't find a paywall, and when you click on the Download Mockup link - you will get your file.
Unlike SmartMockups - this project does not limit quality - get your 4k images with a single click.
The best part - no signup is needed. No registration, no email entering, nothing. That means that this project won't send you advertisement letters.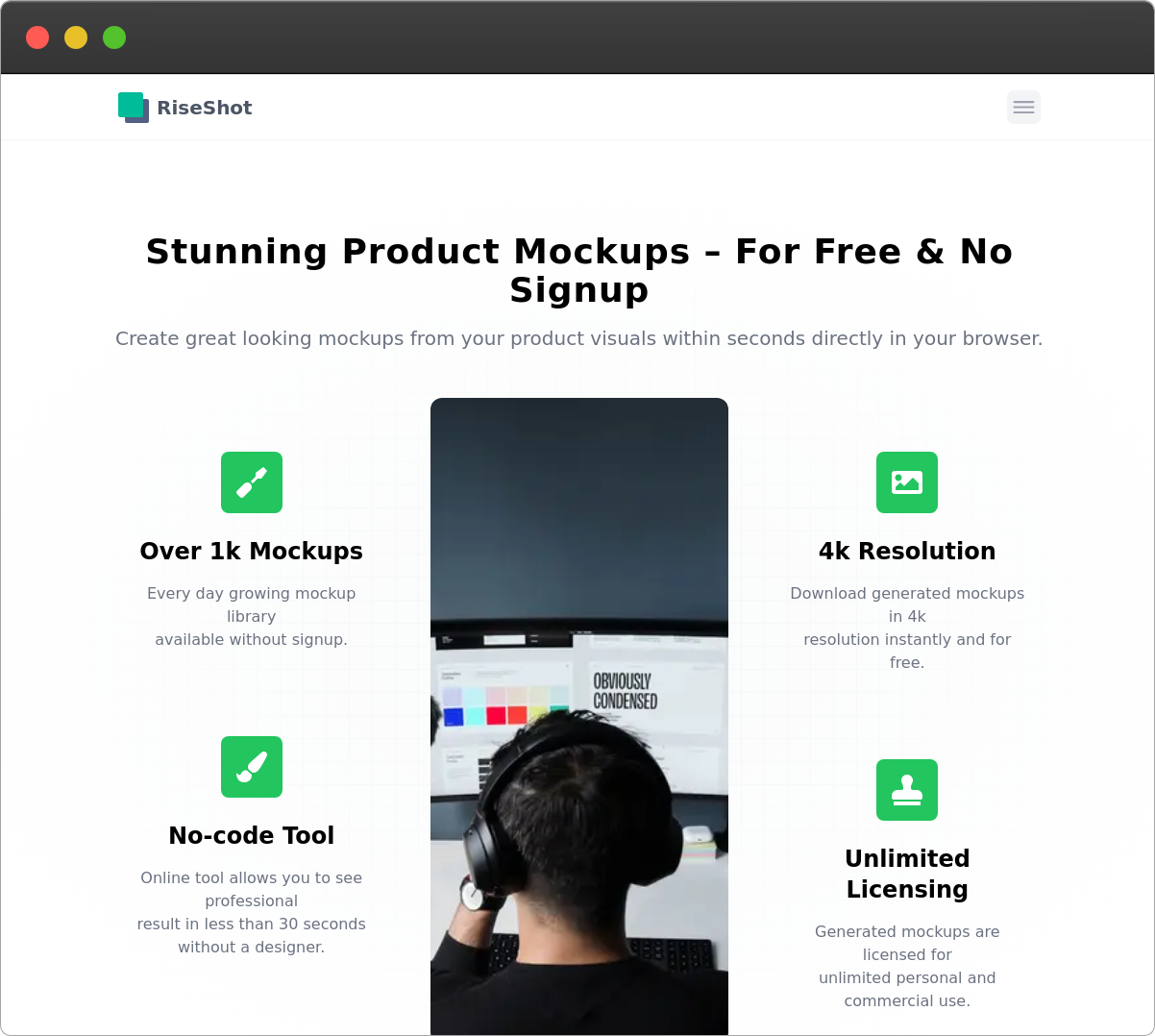 Almost a thousand free mockups split into six categories: iphone mockups, tablet mockups, macbook mockups, places mockups, desktop mockups.
Also, no copyright, no attribution is needed to (re)use the images.
If you need great support - use Live Chat in the bottom right corner.
2. Magic Mockups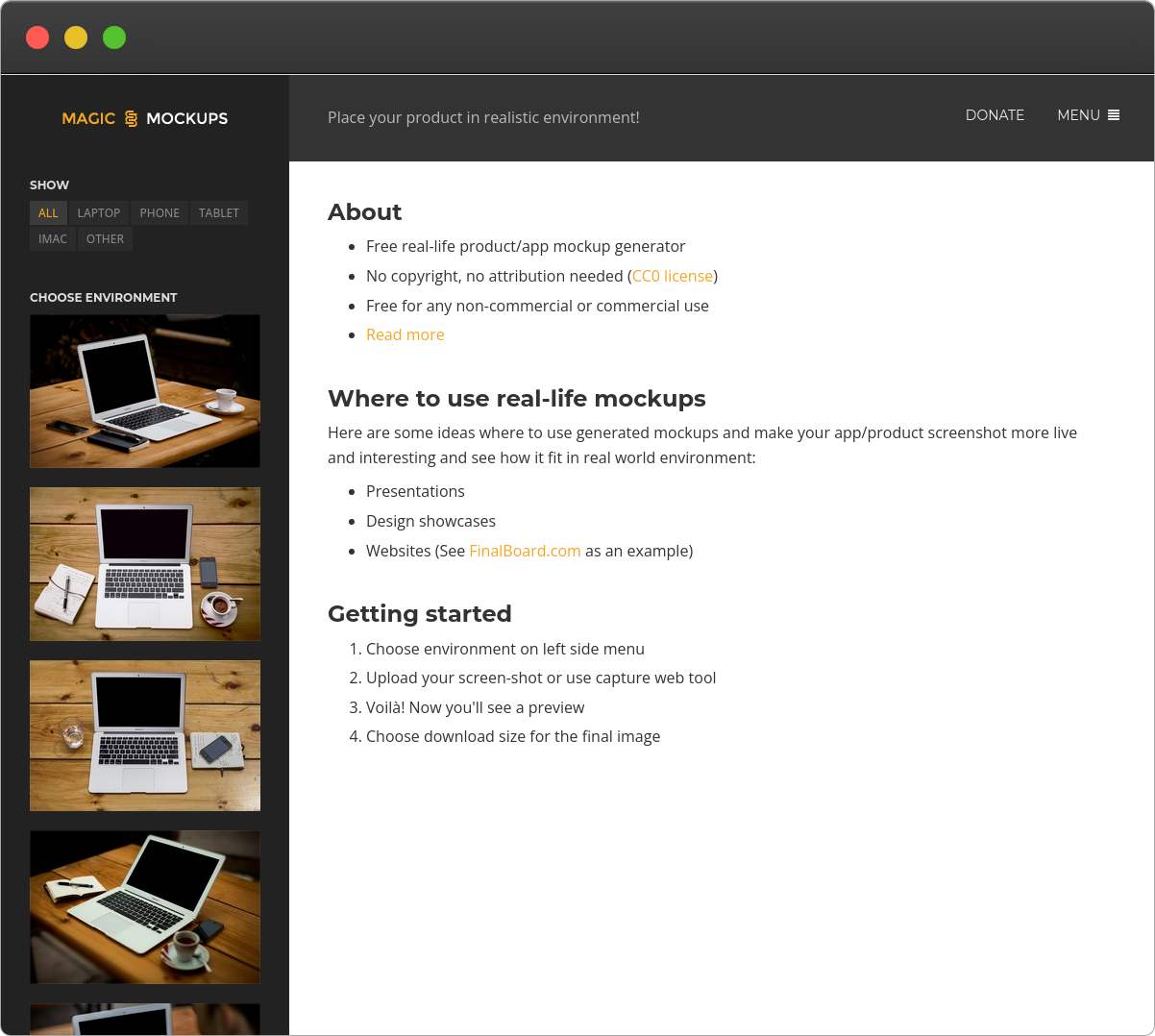 Another project is Magic Mockups →
Within five mockup categories, this project contains only up to a hundred mockups. Very small in size, but mockups are unlimited, and no signup is also needed.
Special note that this project is soon going to be paid. Once they will start monetizing their mockups - we will drop them from this free alternatives list.
3. Mock Drop
Great project with a very limited number of mockups at Mock Drop →
Unfortunately, this project goes with very small resolutions in most cases.
But it is still a great project, and it is free.